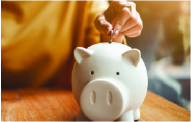 Free Personal Budgeting Workshop
Join us for a free personal budgeting class where you'll receive guidance on how to take control of your finances.
During this class, you'll learn practical tips and tricks for managing your money and creating a budget that works for you. Our instructor will walk you through the process step-by-step, so you can feel confident in your ability to manage your finances.
There is no experience required in this no-pressure session. We believe that everyone deserves access to quality financial education. So why not take the first step toward financial freedom and join us in this informative class? To reserve your seat, please call (509) 838-4246.