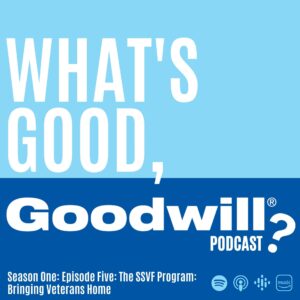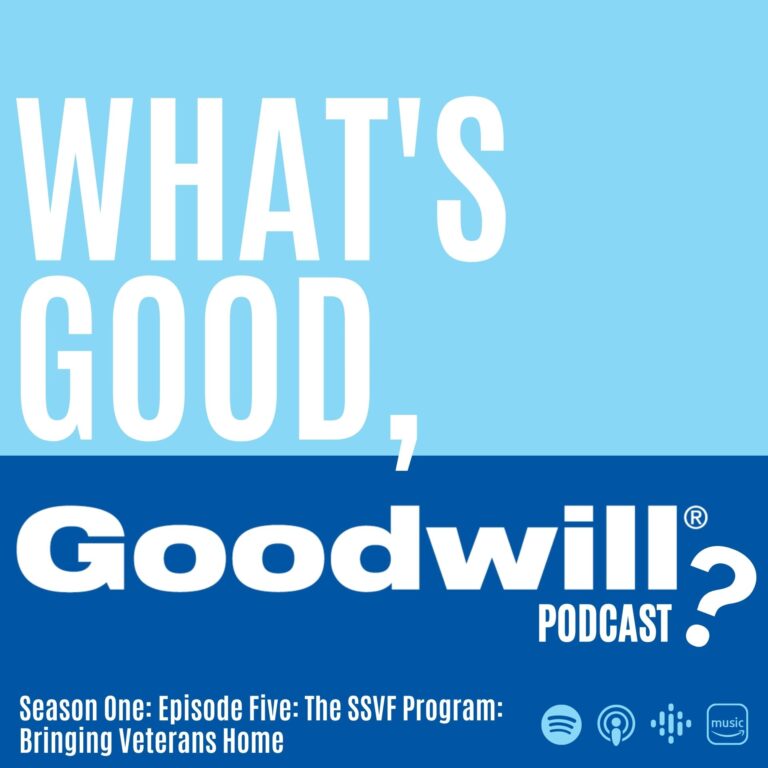 Ep. 6: Together, We Create Opportunities
Note: What's Good, Goodwill? is produced for the ear and designed to be heard, not read. We strongly encourage you to listen to the audio, which includes emotion and emphasis that's not on the page. Transcripts are generated using a combination of speech recognition software and human transcribers, and may contain errors.
(Music fades) 
Michelle: Hello and Welcome to Our Special 83rd Birthday Edition of What's Good Goodwill.
[Party sounds]
Michelle: I'm your host Michelle
Alicia: and I'm Alicia.
Michelle: Big 83.
Alicia: The big 83
Michelle: Boy, we are old.
Alicia: Honestly, 83 looks really good on us and I'm ready to hit for 84. We're gonna enjoy our next trip around the sun.
Michelle: Here's to us reaching 100. That's that's gonna be a big one.
Alicia: So when you reach 100 years old, I heard a rumor that the pope sends you like a personalized letter. Like, I don't know, thanking you for being 100 or so. Do we get one from the pope when we reach 100?
Michelle: I don't know. You got to keep listening to us, follow along.
Alicia: On our 4000th episode. We'll keep you updated. We'll let you know what happens.
Michelle: We will let you know when get that letter in the mail.
Alicia: 2022 was a year of celebration and success for our 630 14 members over for 4000 program, participants in our mission and community business partners.
Michelle: Speaking of celebration, I had the chance to sit down with Clark Brekke, President and CEO of Goodwill Industries of the inland Northwest to talk to him about his 30 years of service at Goodwill and what Goodwill means to him
Alicia: jeez 30 years, the guy doesn't look a day over 21.
Michelle: I know every time he walks into the office I card him. I'm like excuse me sir, I'm gonna need to see your license to make sure you're old enough,
Alicia: Do you have ID? You gotta have to to enter this building. Alright, let's take a listen.
Clark: So my name is Clark and I'm the President and CEO of Goodwill Industries of the Inland Northwest.
Michelle: Clark how long have you worked at Goodwill?
Clark: I just in early November hit my 30 year mark of service,
Michelle: Congratulations.
Clark: Thanks.
Michelle: What's been your favorite part of 30 years?
Clark: You know, I used to think, you know the rush of growing a company like we have. Growing at 246% even the last 10 or 12 years. Serving thousands of thousands of individual people was what it was all about. But now as I reflect, it's really about the stories, it's about people that we serve the individuals that come to Goodwill and they're really searching you know, for their best selves and they extend their hand up and we grab that and we help them up.
You know, we do a great job and we have so many stories and one of the very cool things that's happening right now is when Workforce and Family services put together their stories and they submit them once a month and then each story is published internally for review. And I think, you know, really this is the essence of Goodwill and this is what we don't hear about enough. What we do focus on quite substantially are of course our numbers and our board happenings and our public facing, but the real, the real sauces inside the real heart and the real journey comes from the individuals we serve every day
Michelle: During one of our senior leadership monthly meetings. Clark shared a success story that he really connected with.
Alicia: So we are a non profit organization. So as much as we want to sound as fancy as we can,
Michelle: I think we're getting pretty, we're getting better every episode.
Alicia: I mean we're pretty good, not gonna lie. We sometimes have to take recordings from teams or zoom meetings. So that's, that's one of them.
Michelle: Let's take a listen.
Clark: A couple weeks ago, on the third of November, I did some calculations and ended up being my 30th year of service here at Goodwill. And I started thinking about kind of… really reflecting upon my journey. I think if if you've been anywhere for a certain amount of time, you start thinking about what was that point in my career where I'm at now, where I really got it.
So I was thinking about my, you know, my journey and everybody here, every, every leadership team I've had throughout the years, how do how do we define success? How do I define success?
And I thought, you know, I started in 1990, I came here and I worked for retail and was the retail sales manager over nine stores. I served there for a couple of years, took a couple years off, came back and worked up the Workforce and Family Services side, developed curriculum, ended up being the Workforce director, then moved over marketing public and fund development.
I got my P. H. R. so that I could work over HR and manage HR and eventually it was V. P. And C.O.O. And then went through the executive development program and all this great stuff. And I'm thinking where are these, where's the Inflection point where I really got it.
I want to share with you real quickly where I got it had tremendous success. We have as a team since 2008 when I became the CEO in fact we've grown some 245%. So tremendous This growth and that's a that's a lot of heavy lift on a lot of people and a lot of support from our border directors. And in that time we serve 73,718 individuals just between 2008 and now. And so these individuals, all of us have contributed to those life changes for people who come to goodwill seeking our services and seeking a better life, a life that they choose a path that they choose. We're just here to support them and what a wonderful thing to go home and think maybe I touch someone's life etc. I have all these stats to share and all the success and I look around you all, I think, you know, the staff have grown up here and they're successful. You know, we've had such a good run. So what is that point where I went, you know what, this is, what it's all about, and guess what. It isn't about the numbers at all, even the numbers served for me.
It happened 2008, my first board meeting, we invited someone to speak to our board of directors that we had served that year.
So a gentleman named Ralph and his family drove to Spokane from the Midwest and Ralph was a veteran and so he was with his wife and his two children and they came over to Spokane because we had such great V.A. services, they left everything there, they drove in their car and that's all they had.
They were living out of their car when they got to Spokane and they were lost and they were looking around and they heard about all these services and they happened upon a flyer about our Veterans Services here at Spokane.
So they drove over here in his car, in their home, and he came up to visit with one of our staff members and the staff said, "Well of course Ralph, you know here all the services we have, we can help you, we can get into housing right away and get some supports around your family" and you know, he was ecstatic. He immediately went down to his family in the car and said, "You know what, we're going to be okay, we're gonna be okay." I mean, can you imagine just being a child and children in the car and as parents, you're probably wondering if you're doing the right thing by your children and just struggling.
And so he was talking about this story to our board of directors, we're so proud of him after they got stable and you know, he got a job and you know, everything was going. So he finished talking the board and saying what a great job our team did and how he loved Goodwill. And at the end he was crying and he had, he actually wore a sport jacket to the board meeting.
I remember specifically at the end after presenting, the board was sitting there and there was this kind of silence like, what do we do now? And I came up with a quick transition, of course, I said, well, thank you for coming up and we're glad we're able to serve you and we're glad your family is doing well and to transition from the boardroom because we still have a board meeting left, I just went over, I went to shake his hand, but something compelled me to bend over and embrace him.
Then one of the staff members took him and escorted him to the car and kind of helped him out and out there. His family was waiting for him because they just rode along that day. They had they had a great place to live at that point.
So fast forward three months later. This is the interesting thing that you never know the things you do that impact people and then impact yourself.
So three months later we had our first CARF survey and when the surveyors come, what they do is they interview people that we serve both internally at our facility and then they'll go out into the community. Well the lead surveyor happen to go to Ralph's house and talk to Ralph about his service as a Goodwill. And of course Ralph was very kind to us and very used to so pleased and thankful for us. And he said to the lead surveyor, "I know the CEO", he's very proud to say that.
The surveyor passed this onto me. And I was listening to him when he got back to this and I said, "oh that's great, you know, such a great guy." And he said, you know what Ralph said, he said, "I've never been hugged by a man before", that's what he said. And so the surveyor passed this on to me and I thought you know what, this is what Goodwill's all about.
You know it's really we have these great numbers and this great success but really is about really touching individuals one at a time and really changing helping them change. In turn it changes us. It's kind of this, this circle that goes back and forth. We talked about cycle for good of Goodwill and to me that's kind of the real example of what cycle for good is and what Goodwill does.
Not only do we help people but they enhance our lives as well to do all these great things. But what I remember as well and that's what you know, that's just kind of if I left tomorrow, just know if there's a story that Clark remembers or what he remembers about Goodwill, this is what he remembers.
Alicia: Goodwill's vision is that we believe in opportunities for all people.
Michelle: Each and every day. We are constantly inspired by the stories of success of our program participants that we get to share with you.
Alicia: We sat down with our guests Braden, Doug, Rebecca and Wade, just a few members of our leadership team, to hear what success stories from 2022 that they connected with,
Michelle: Grab your box of tissues and get ready to learn how Goodwill works alongside our program participants to not only offer a hand up to also be a small part of helping them change their lives.
Braden: So my name is Braden Fish. I'm the associate vice president of mission services here at Goodwill. I wanted to highlight the story of Thomas which shows the amazing work of our employment programs.
Thomas has a disability that make communication difficult. Conversations aren't easy for him and business language is confusing. Because of these challenges, Thomas worried about finding a job, but he wanted a job. So once he graduated high school Thomas started looking for his first job.
The Division of Vocational Rehabilitation (DVR) referred Thomas to Goodwill. He enrolled in a community based assessment to find out what his strengths were and what he needed to learn.
Thomas learned that he wanted to be a baker. With that in mind Thomas and his employment specialist applied for baking jobs in the community. He got a job at Krispy Kreme as a production specialist in February 2022.
Thomas takes pride in his work and does a great job. He keeps an eye on the donuts that come out of the fryer and checks to make sure they are flipped and moving along the conveyor belt properly. He checks if the donuts need glazing. He makes sure the glazer is working correctly. He finishes the process by putting donuts on racks or trays and packaging them. He decorates and makes sure the workstation is clean and sanitized.
Thomas has learned new work and communication skills. He used to be all about business. He wasn't interested in talking about anything except work. But now he joins in when his team members are talking and connecting and he chats about things he enjoys like Star Wars.
Without Goodwill's help Thomas said his life would be in shambles. He said his life is better since he got a job.
Doug: I'm Doug Ross the associate VP of Information technology. I'm going to share with you a story about Terry.
For more than 30 years, Terry battled homelessness. He was a drifter and loved life on the open road. He has lived in and traveled through more than 38 states. For an old farm boy, this was living the life. Every day was a new adventure.
To Terry home was simply a place where he could lay his head. Under a bridge, in a tent alongside the road, or even on a bedroll on under the stars. "I'm kind of a wanderer. My dad said, I always like to look over the fence."
 He sees his homelessness as a choice. The adventurous rambling lifestyle started to lose its shine for Terry who is 76 years old. He was tired of always being on his toes. He had to stay vigilant of encampment, thieves and losing his campsite. Simple things started to become a burden like getting up and down from the ground. It was agonizing. It was difficult for Terry to bear. He avoided seeing a doctor for over 11 years. 'If it ain't broke, don't fix it." Technically, he wasn't broken yet, but he had aches, pains, stiffness, illness and exhaustion. These things got harder to bear every day in time. He had enough.
Goodwill Supportive Services for Veteran Families (SSVF) team met Terry in a shelter in north Idaho. He agreed to get help from the program and within a very short time he got an apartment of his own SSVF worked with a property to help with the moving costs and Terry got a housing voucher that will guarantee affordable rent payments.
Long term, Goodwill also helped him get a full year of phone service. Now he can stay connected to necessary services, health care and social support. This has opened a whole new world of technology to him, although it was intimidating at first, Terry said it was exciting. He set up his first ever email account and learn to take photos, make calls and text. He got essential movement supplies such as toiletries, cleaning materials, towels, cookware, his case manager made furniture arrangements and other home supplies from Newby-ginnings, a veterans thrift store in Post Falls to help him improve his overall health. He takes regular walks to the grocery stores and neighborhood markets. This helps him increase his stamina and overall heart health.
Terry knows that whatever may be thrown his way he can handle it. "I'm an over comer. I don't care what it is, I'll overcome it." Since getting help from Goodwill, Terry has a stable home and bed that he can return to for a good night's rest.
Alicia: Speaking of technology, did you know that you can reserve a spot one of our free computer classes in Spokane Washington?
Michelle: Wait what? Free? Did you know that we also offer free computer classes in Colville and Moses Lake Washington?
Alicia: My favorite F word. if you're interested check out the class schedules on our website at discovergoodwill,org/ calendar and call the number to reserve your spot.  
Rebecca: My name is Rebecca. I am the VP of Finance at Goodwill and I'm going to share a story about one of our participants in the Housing and Essential Needs program. Her name is Chriselda.
Chriselda struggled with substance abuse for many years. She was homeless in Tri Cities Washington. It wasn't the best place for her. She was surrounded by influences and situations that made it difficult for her to get sober. Her family lived in Spokane so she didn't have a lot of contact with them. Sometimes she would speak with her family on the phone. They tried to convince her to move to Spokane so she could be around her family and Children. Chriselda's family thought this would help motivate her to begin a sober journey. They said "try something new for yourself. Just try."
Chriselda was at a point in her life where she didn't have much to lose by leaving the Tri Cities. So she left and moved to Spokane. She missed her two daughters and longed to rebuild her relationship with him in Spokane. She checked herself into a facility for women recovering from addictions. She stayed in their program at the facility and did her best to follow all the steps they gave her to recover. After some time she completed the program she found faith based meetings that she could attend to help her stay on track with her sobriety. This was a huge help for Chriselda. She began to feel a lot of personal growth at these meetings. This helped her to build stronger relationships with her family.
Since Chriselda completed the inpatient program, she needed to find a stable place to live. She didn't know where to go and was very scared. She wanted stable housing so she didn't have to return to living on the street. The people that helped her at the inpatient facility told her about a clean and sober living home. So she contacted the home. Then she got approved to stay there while she searched for more permanent housing. This was a good transition for Chriselda, she felt relieved to find a temporary place that would help keep her from returning to her addiction.
The staff at the clean and sober living home suggested she looked into Goodwill services. They told her that Goodwill has a program that could help her find more permanent housing. So Chriselda visited Goodwill's workforce and family services to see what help she could get the team at Goodwill listened to her needs and help guide her through the right steps to enroll in the Housing and Essential Needs program (HEN). The HEN team helped Chriselda apply for help through the Department of Social and health services. After she applied, she was put on the waiting list for the hen program. Chriselda didn't stop looking for housing while waiting for the program's approval, she said, the more I started looking, the more things slowly started happening.
When Chriselda was approved for the program, she felt so much joy. She prayed for this type of blessing day and night and felt her prayers had been answered. But Chriselda felt concerned about the necessary items she would need for her new apartment. She worried about how she was going to pay for things like dishes and linens. Her Goodwill case manager eased her worries. They told her the program helps people with essential items too. So Chriselda's place soon had everything she needed to make a stable home for herself. Chriselda's achievements continued after she got into stable housing, she wanted a job where she could make a difference. So she got a job at a learning center for child development. She loves her job and said it feels good to be able to help kids that are in need of love.
Chriselda has been sober for two years. She said one of the biggest things that she has achieved since getting sober is her mindset. "I was broken for a long time. My life was just a wreck and I had nothing going for me for years now."
She has learned to be more generous and compassionate, staying sober is a good way to live life, definitely. Chriselda is so grateful and feel so blessed for the support she got from Goodwill.
She said "if it wasn't for Goodwill, I don't think I'd have a place to live." Before her recovery, it was easy and common for Chriselda to lose hope. Now she has peace and hope. Goodwill gave me so much peace in my mind. I have so much peace in my heart, so much peace.
Wade: This is a story that I would like to share regarding Foundational Community Support Housing participant Garrett.
My name is Wade Rooks and I am the senior associate vice president of Human resources.
Garrett struggled with alcohol abuse, he wanted to get clean and stay clean, so he put himself in a drug and alcohol recovery program. He stayed focused and on track with the program. Over time he completed the program and moved into a sober living home. He shared this home with eight other people. It wasn't always easy to share space with that many people, but Garrett was grateful just to have a home. Then he started a full time job, He started saving money to move into his own place.
The thought of having his own unshared space motivated him to work hard, he wanted to stay financially responsible. So he searched for homes within his budget and he needed a place that was close to work. His search seemed never ending. Garrett knew he needed some help to find stable and affordable housing. He heard about Goodwill housing programs and services they provide. So he visited Goodwill and spoke to a Foundational Community Supports Housing Program case manager or FCS. This case manager worked to find an apartment that was within Garrett's budget and they got a promising lead. The case manager helped Garrett fill out the rental application. After speaking with the property manager, Garrett got approved and moved into his own place after moving in, Garrett's case manager helped him order a bed and mattress online, then they helped him set up auto pay for his rent.
Garrett wanted to stay sober, have a healthy income and stable housing, he was always willing to put in the hard work and he knew it was okay to ask for help. He is thankful for the support he got from Goodwill and the Foundational Community Support case manager without Goodwill's help, he would still be sharing a small space with many people in the sober living home.
Alicia: 83 never looked so good.
Michelle: It's true, 83 years of changing lives and there's certainly no stopping us as we look towards 2023.
(music fades) 
Michelle Hey, if you're hearing this message, you've listened to our new episode all the way to the end. And for that, thank you.
Alicia And don't forget to keep up with what's good by following us on Social Media, on Facebook, @INWGoodwill, Instagram @Goodwill_INW, Twitter @GoodwillINW and TikTok @GoodwillINW.
(Music fades out) 
Clark: The weather is so cold I had to scrape off my windscreen with my supermarket loyalty card this morning. I only got 10% off.
(sound fades)