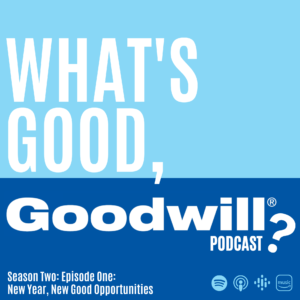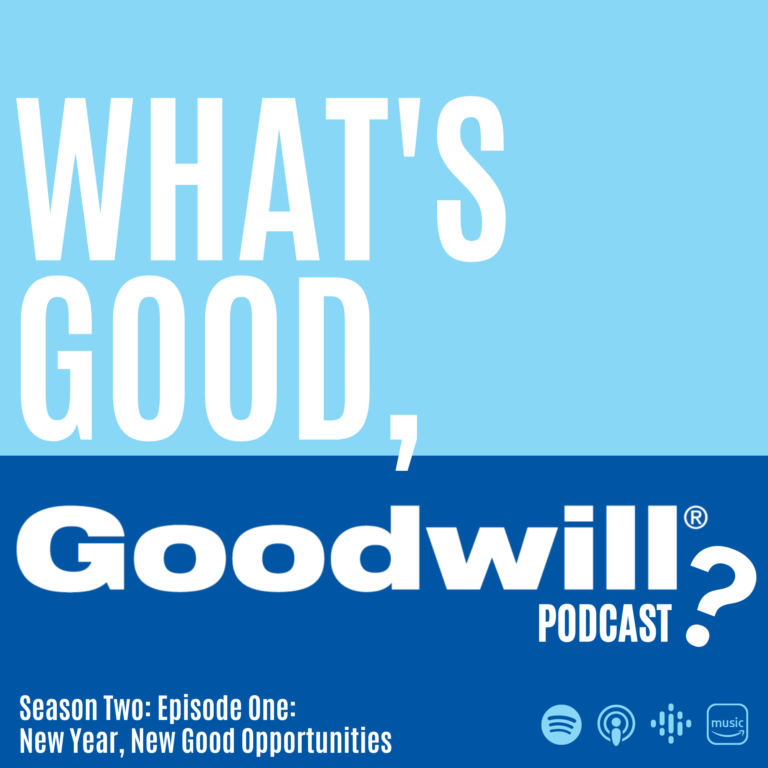 S2E1: New Year, New Good News
Note: What's Good, Goodwill? is produced for the ear and designed to be heard, not read. We strongly encourage you to listen to the audio, which includes emotion and emphasis that's not on the page. Transcripts are generated using a combination of speech recognition software and human transcribers, and may contain errors.
(Music fades) 
Alicia: Hello and welcome to Season two, Episode One of What's Good Goodwill. I'm your host Alicia.
Michelle: And I'm Michelle. Can you believe it? We've made it to a second season.
Alicia: Thank you for hanging in there with us. I know it was tough, but we did it.
Michelle: We're well seasoned.
(laughter)
Michelle: New Year, new jokes.
Alicia: Ne year, new jokes.  I love it.
Michelle: So we're in 2023. It's a new year. Are you excited for 2023?
Alicia: I'm very excited. It's moving further and further away from 2020. We all know the year that shall not be spoken of. We know what happened.
Michelle: We have exciting news for 2023.
Alicia: So, we asked Clark Brekkie Goodwill Industries of the Inland Northwest President and CEO to share that news with us. And here is what he had to say.
Michelle: Let's take a listen.
Clark: So my name is Clark Brekke, and I'm the president and CEO Goodwill Industries of the Inland Northwest.
Michelle: So what are you looking forward to? Or what's the most exciting thing so far that you know of about 2023?
Clark: 2023 is going to be unbelievable. So, first of all, we are an enterprise and we raise capital through donations in our stores and our retail. So, we're opening up a tremendously wonderful new retail facility in Airway Heights, Washington.
Michelle: That's exciting.
Clark: That will grow our employee count by nearly 30. We'll move two storefronts up there and have salvage operations extending our purpose of being green and kind of building that cycle for good. So when donations come in, utilize those and get the highest and best value to fund our mission And then on the back end of that, we do the best we can to recycle what's left over.
Michelle: Very cool.
You hear us often talk or call the newest location, the West Plains or Airway Heights location.
Alicia: Where is that specifically?
Michelle: Well, Alicia I'm glad you asked. Our newest location is located across the street from the Airway Heights Village Center Cinemas on the corner of South Deer Heights Road and West Flight Drive.
Alicia: Talk about being the new kids on the block.
Michelle: That area certainly growing. You'll be able to grab a drink from Dutch Brews before you thrift. Or if you're a bin shopper and treasure hunting is your jam, go deep diving into the bins and then catch a movie to celebrate your car full of treasure.
Alicia: The new facility will help Goodwill meet our zero waste environmental goals through salvage and recycling services.
Michelle: Through these goals in 2021, we've helped keep more than 24.2 million pounds
Alicia:  That's a lot of pounds
Michelle: stuff other people might have thought of as waste out of local landfills.
Alicia: So Goodwill is a site for the Washington State East Cycle program. Which makes it easy for Washington residents to recycle certain broken or obsolete or worn out electronics.
Michelle: One way you as a donor participate in Goodwill's environmental goals is by donating your old electronic devices such as TVs, printers, speakers, monitors, and even old cell phones, just to name a few.
Alicia: And I was just thinking about those old, if you got your old stash of Nokia 1998 cell phones.
Michelle: So you'd be surprised every time we have donation drives throughout the year for ecycling and then every time you see cars just loaded of old TVs, I mean like the big brick, all the big.
Alicia: The big back-end ones.
Michelle: The big, backed TVs and they have just like cart fulls and we're always like.
Alicia: Where would you keep these? Where are you even storing them?
Michelle: They're like, I've been storing it in my basement. I've just been, you know, I saw your post on social media and I thought, now is the time.
Alicia: I wonder if people it makes me think of people like had them all, all that stuff in their basement. Did they try to recreate that TV sequence? In The Matrix? They just line all those TV shows.
Michelle: If you know what we're talking about. Just reminded you that you've got that really old TV or those really big, big speakers that are collecting dust.
Alicia: Give us the old stuff since you've upgraded to the new stuff. So follow us on social media for store updates and news about the grand opening party. New Year, new career?
Michelle: Might be on the cards.
Alicia: Out with the old and in with the new. It's looking like an exciting time to join our team.
Michelle: We sat down with Brayden Fish to talk about what he is looking forward to In 2023.
Alicia: Let's take a listen.
Braden: So, my name is Braden Fish. I'm the Associate Vice President of Mission Services here at Goodwill. Something I'm excited about for 2023 for Goodwill is that we are looking at bringing on some clinical support for our participants and for our team members to start off with. This will bring Goodwill into the behavioral health field and the medical field in that aspect and will be a big step for the organization into a completely new service market.
It's a very big step, one that we're really excited about starting to dip our toes into that would involve hiring a paid clinician who would be offering therapy, support services, and group work would be a licensed clinician in the community. This will be a starting off as a support to our own employees and then in the future, expanding that to our participants. And then later the community.
Michelle: Alicia, have you heard of Ditch New Year's Resolutions Day?
Alicia: I literally have no idea what that is.
Michelle: Perfect. I'm here to tell you. Overly ambitious New Year's resolutions are often so hard to follow through with only 9% of people actually keeping them. So many people ditch the resolutions by mid-January.
Alicia: Well, I feel attacked.
Michelle: That January 17th has become known as Ditch New Year's Resolution Day. So today, we are encouraging people to make more achievable resolutions related to getting organized.
Alicia: If you want to keep your goals, try connecting with something that makes a difference. Want to get organized in 2023? Donate your items that you no longer need to Goodwill and help people in your community. Find jobs and career training, housing and essential needs, financial support, digital skills and so much more.
Michelle: Now that's what's good.
One of the things I love about working here at Goodwill is that we as team members have access to programs that we provide to the community.
Alicia: So when team members experience problems outside of work, it can really affect work, performance or attendance.
Michelle: Goodwill wants to provide team members with confidential help by connecting them to resources in their communities.
Alicia: Goodwill's Good Life Program has team member support specialists who provide confidential help.
Michelle: Our team member support specialists can help with housing resources, health care services, veterans services, and child care programs, legal services, education, and other training services and access to other community resources.
Alicia: Good is the vibe we're keeping in 2023. And to keep that goodness rolling. I would like to share a success story.
David is a gentleman who has recently transitioned from a 14 year incarceration to a work release facility. He felt like he lost 14 years of his life and wanted to build a successful and brighter future for himself and his family.
So he came to goodwill for Internet connectivity support and was helped through our career and resource center. He took advantage of a coding scholarship and with Goodwill's Help completed his certification. I had the privilege of meeting David and getting to hear his story. So, let's take a listen.
David: Hi. Hello. My name is David. My life before I came to Goodwill recently transitioning from incarceration, I became incarcerated at 20 years old, was actually released to a transitional work reentry center at Brown Stone Work release at 35. I mean, obviously, it was a struggle. I went into incarceration as a youth and I came out as an adult having to not only survive in a prison environment but also raise a child from inside of incarceration.
I educated myself to the best of my abilities and to the best of the programs that were provided to me throughout the state of Washington. It was just one struggle one barrier after another, just taking it day by day. Several of the challenges that I faced throughout my transition, especially coming from incarceration, transitioning to the brownstone work release and just reenter society in general.
Previous to my incarceration, I had a child. While I was incarcerated, I lost both my parents and some of those bonds that you have with your family and friends that deteriorate that you don't actually just naturally nurture those bonds because you're so disconnected from society. The way I found out about Goodwill Services is I was actually in search for the use of Wi-Fi.
Growing up, I mean, I utilized the goodwill for clothing and other items, but I didn't really know that they were active within the community until I started searching for a location for Wi-Fi. Now, looking back, it was just a life changing moment to be able to meet Mr. Baker, to connect with him and the goodwill support services and really cement us all without the goodwill with the chance when I found somewhere else.
Sure. But would that other place have provided those secondary support services? A bus passes, closing Being there every day. It's the little things, the simple little things that really threw out those three or four months. That was just an ultimate game changer, a life changing experience. That allowed me to find that employment, complete the program and just make it happen.
So while working with Goodwill, I got support through several different programs. I actually was able to use a computer lab to help me to participate in a software engineering program as I transitioned back into society from incarceration. In addition to that, Goodwill also supported me with different programs such as bus passes, clothing for employment and other social services.
I was able to gain employment, obviously, after connecting with the career Resource Guide and giving the support of Goodwill Services, graduating the program, the coding program. It actually resulted in an offer of a medium employment. Do you have an associate's in business? I'm actually working towards my bachelor's in business through Adam State University. The relationship I have with my service, I mean, it's as strong as ever parenting from, you know, at some point hundreds of miles away was an absolute challenge.
He is the priority in my life. He is my shining star, my, my, my everything. And so, he is really the reason why I'm here today. Like, he's the reason for my change. And so as long as I can be a model to him and ensure that he doesn't follow the same path I feel like that's a life achievement.
Overall, the help that I received was a good well, again, I can't say enough great things about it. It's been life-changing. Not everyone in society is open-minded to rehabilitation and the ability for a second chance. Life-changing experience. I can't tell you how grateful I am for and I look forward to giving back in the future with the good well program So if I could give someone that was in my similar situation advice, it would be like, Just don't give up.
Michelle: Goodwill has more than just retail positions. As a nonprofit organization, we have social work positions that work in the different areas and programs we offer in housing, employment, veterans services, and financial support.
Alicia: Do you have experience working with a vulnerable population such as the homeless community children or individuals with disabilities?
Michelle: Do you have good communication skills? Are you flexible and adaptable in day-to-day tasks?
Alicia: Do you maybe have a sense of humor but you also know how to set boundaries?
Michelle: Then we are looking for you. Our workforce and family services teams are growing and have opened positions in eastern Washington and North Idaho.
Alicia: Do you live in Lewiston, Idaho? Because we are hiring for a part-time job coach. This job worked side by side with our program participants for job training, coaching of tasks and skills, and supervision.
Michelle: Our job coach positions are part-time Monday through Friday with vacation, sick time, and paid holidays.
Alicia: And that's what's good.  Are you ready to apply? Find this job in all available positions by clicking the link and our Good Bits section.
Michelle: More good is happening in 2023 than we could handle in one episode.
Alicia: So help us spread the word about the What's Good, Goodwill? podcast. Please help us grow by liking commenting or leaving us a review wherever you listen to podcasts.
Michelle: Now that's pretty good.
Alicia: That's good.
(music fades) 
Michelle Hey, if you're hearing this message, you've listened to our new episode all the way to the end. And for that, thank you.
Alicia And don't forget to keep up with what's good by following us on Social Media, on Facebook, @INWGoodwill, Instagram @Goodwill_INW, Twitter @GoodwillINW and TikTok @GoodwillINW.
(Music fades out) 
Alicia: Two guys walked into a bar. The third one ducked. 
Michelle: Oh
(sad trombone sound and booing)
(sound fades)