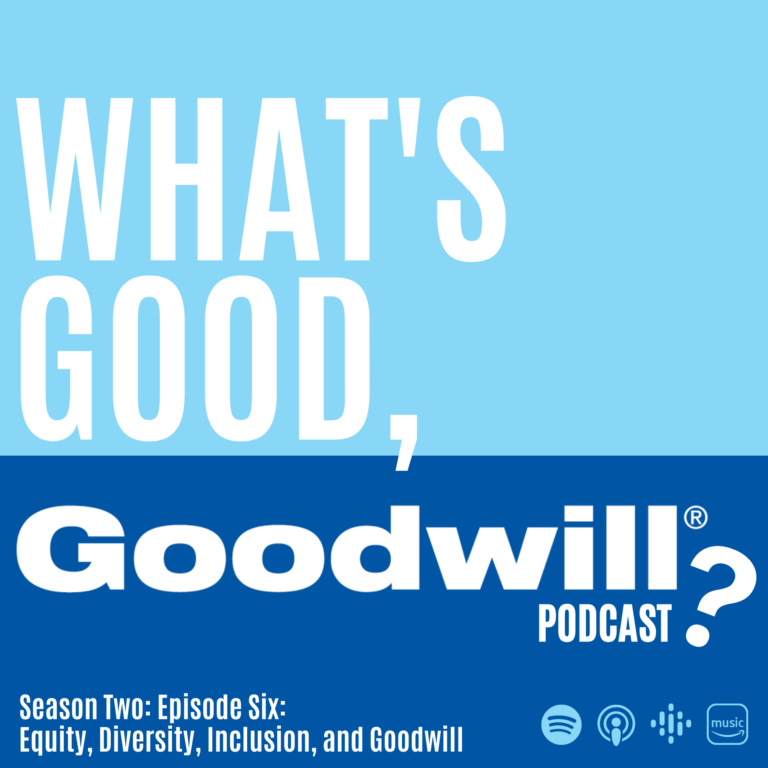 S2E6: Equity, Diversity, Inclusion, and Goodwill
What's Good, Goodwill? podcast hosts Michelle and Teresa are excited to share what's going on at Goodwill this June. 
Join us as we sat down with Heather Alexander, Sr. Associate Vice President, Marketing & Communications to learn about Goodwill's EDI-B committee and Goodwill's commitment to value each team member equally and together to meet the needs of our communities. 
Listen to how Goodwill works along community partners and celebrate with us as we recognize our 2022 community award recipients.   
Continue the cycle for good by sharing our podcast on social media and subscribing wherever you listen to podcasts.  
Don't forget to stay all the way to the end of the episode for a dad joke so bad it's good! 
Goodwill Connect and Free Digital Skills Classes
Interested in learning the basics of Microsoft Office programs so you can pursue an office job? Need help with online job searches and resume writing? Learn digital skills free at Goodwill in Moses Lake, Colville, & Spokane, Washington.
Personal budgeting
Social Media basics
Microsoft program basics
Computer basics
Online job searches and applications
Resume writing, cover letters, and interview skills
Windows 10 basics, Chrome OS basics
Google Docs for beginners
Find upcoming classes here: https://bit.ly/41NyA3e
Michelle
This episode is brought to you by Goodwill Industries of the Inland Northwest team members Michelle and Alicia. 
We challenged them to find their favorite item in the store to share with you. Show our hosts your favorite Goodwill finds by tagging us using @goodwill_inw and #goodwill_inw on Instagram. 
Teresa