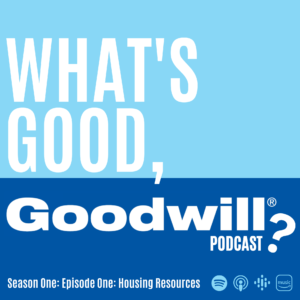 Ep. 1: Housing and Essential Needs Transcript
Note: What's Good, Goodwill? is produced for the ear and designed to be heard, not read. We strongly encourage you to listen to the audio, which includes emotion and emphasis that's not on the page. Transcripts are generated using a combination of speech recognition software and human transcribers, and may contain errors.
(Music fades)
Michelle All right. Welcome and thank you for listening to "What's good, Goodwill?" I'm your host, Michelle.
Alicia And I'm your host, Alicia.
Michelle For our very first podcast we're diving head first into one of our large programs. With us today, we have Jenn, Christina, and Kim here to talk about one of our programs and how you or someone you know can connect with them.
Alicia Let's start with Jenn. Go ahead and tell us a little bit about yourself and what you do.
Jenn So I am the program manager for the Housing and Essential Needs program, also known as HEN have been here at Goodwill.
Michelle Thank you for joining us today, Jenn. Christina, go ahead and tell our listeners about yourself.
Christina Well, hello. I am a Housing and Essential Needs case manager. What that means is that we work with individuals experiencing homelessness in our community or that are about to become homeless. In our program, we help them look for housing. We help clients with applications for housing We do an intake to determine what the best needs are for those clients.
And we assist with goal setting and helping them to fulfill those goals. An example may be needing a driver's test to be able to put in job applications for employment and assist with many activities to enable our participants to eventually maintain stable housing on their own.
Michelle Thank you, Christina. Next up, we have Kim. Kim, can you tell us a little bit about who you are and what you do at Goodwill?
Kim My name is Kim, and I am a WFS HEN Case Manager. I work with people who are homeless or on the verge of homelessness, and we provide support for them.
Alicia That was great. Thank you, Kim. So, Jenn, can you tell us a little bit more about the HEN program and how it works?
Jenn Folks who are homeless or at imminent risk of becoming homeless in order to keep or get them housed. So we get referrals from DHS and then they come into Goodwill and we get them into our program and we're able to pay for their rent utilities. Lots of different things that are housing-related.
Michelle So it sounds like the HEN program has a lot of different moving aspects. And I know day to day it might change, but can each one of you tell us what a typical day is like for you?
Jenn So tea is my beverage of choice. The stronger, the better. That is what gets me going in the morning. Generally, my day is very unpredictable. I hear from my leads and case managers about any issues going on. I work with the general manager and the admin team to make sure that things are running smoothly from kind of a behind-the-scenes point of view for the HEN program.
I sometimes have to talk to people in the lobby about whatever problem they're having that day. So it's different every single day, which is what makes it fun and having a really great team of leads of case managers, housing specialists, and diversion specialists makes my life so much easier because they are just amazing.
Christina In a typical day, I could be doing intakes to assess whether or not our program is a good fit for somebody. I could be putting in applications for that person, assisting with housing searches, and providing essential needs like toilet paper or shampoo, or food to somebody that may be experiencing homelessness at this time. I could be assisting with rental payments.
Kim On a normal day if I work in the office. I'm doing a lot of face-to-face with our participants. They're struggling sometimes with addiction or mental illness, and we just provide support and resources to get them back to where they can be independent again.
Alicia So how does HEN work? How do you become eligible for the program?
Jenn First you get the DHS referral and then you come to Goodwill, where you meet with one of our diversion specialists. So, they're going to talk to you about your housing situation, what's going on whether or not they can help with that, whether there's a different program that might be able to help, and do some referrals to wherever is going to be most useful So that's what the diversion team does.
Then once someone is selected and enrolled into the HEN program, the case managers and I've got well, how many do I have now? Between, usually between ten and 15 case managers.
Right now we are hiring. So if you or any of your friends feel like working at Goodwill.
Yeah. So I've got case managers between ten and 15 case managers who work with participants on the program, helping with paying rent and utilities.
But also any issues that come up, trying to connect them to resources and trying to get them stable in their housing so they don't need us anymore. That's my ultimate goal. Is to not be needed. My team also has three part-time Foundational Community Supports housing specialists, so they work half time with HEN and half time with the other programs. We usually say FCS, which is a housing and employment program that you can probably learn more from one of our other people.
Alicia What is something that you take away from helping a person who needs the HEN program?
Christina Well, I find my job very fulfilling. For me, it's not necessarily about making a huge difference to combat homelessness in our community, but for me, it's making a difference in that one person's life that is in front of me. Because if we just do one thing at a time, eventually, hopefully, it makes a huge difference in our community.
Kim I'm constantly humbled by when I see people struggling, and it makes me grateful for where I'm at in my life. And then there's also satisfaction in helping participants connect to resources and encouraging them to learn about how to use the tools they need to gain their own independence. I get satisfaction from seeing the light bulbs go off in people's eyes and someone is finally housed and we're able to provide some move-in items for them.
Michelle HEN can't possibly do all this work alone. Are there any agencies or community partners that play a role in your work?
Jenn Oh my goodness. We have so many amazing community partners we work with. We work very, very closely with SNAP. SNAP, which is a community action agency force in Spokane. We work with them a ton. We also work with Consistent Care a lot recently. They also have an access program that sometimes people who are more medically vulnerable will do better in that program because that's more of their focus.
We just gave an award that was nominated by a HEN person to Our Place, which is a community center food bank, amazing program in West Central Spokane. Sinto Commons and Goodale and Barbieri have been really great. We have a lot of people housed through there. All the other agencies in Spokane. So SNAP. Catholic Charities, Volunteers of America, we work with them all really, really closely to get our people housed, to get people to the right, the right resource that they need right now.
If you name an agency in Spokane, we have probably worked with them, which is what I love.
Christina So our amazing team is so lucky to work with a lot of different agencies and partners. And without them, honestly, we can do what we do. We're very fortunate to be able to work alongside all of them. We also work with Permanent Supportive Housing to find people permanent housing. We work with Foundational Community Supports that helps with inspections in our rentals for our participants, as well as assisting us with looking for housing.
YMCA helps us with individuals that are leaving the domestic violence shelters. UGM helps with people that are currently experiencing homelessness. The ROAR House, which stands for Reclaiming Our Area Residents helps with individuals that are overcoming drug addiction, get back into the housing market by providing them with rental history. We also work with Revive. That helps with people that are exiting institutions such as prisons or hospitals to reenter the housing market as well.
We work with Oxford Housing, which has been a blessing for many of our people that have very high or strong barriers to housing and employment. Some of the Goodwill programs that we worked closely with is the Responsible Renters courses that one of our case managers in Foundational Community Supports actually puts on. And it is very beneficial to individuals that maybe do not have rental history that are trying to learn how to re-enter the housing market.
People that are already housed there take the Responsible Renters courses benefit from it by learning how to budget the money, find other programs that maybe are beneficial to where they're at currently with their housing situation. We also work with individuals like Boxdrop Mattress that assist us with bringing mattresses to individuals that otherwise wouldn't have a bed to sleeping once they do get into housing.
We work with companies such as Kimle and Haagood to get individuals into permanent subsidized housing once they do transition off of our temporary program. And we also work with the Spokane Housing Authority, which is similar to the section eight program. The people that are currently housed can stay in their housing for a 30% subsidy. We work with a lot of different companies that I would be taking forever.
Kim There is a plethora of resources and organizations that Goodwill works with. I love Spokane because if you really need help there, there's a great community here in Spokane to get what you kind of need if you want them. The VOA. They have a lot of adult and youth programs, Volunteers of America and they have this program called Permanent Supportive Housing, and they've helped us house a lot of our participants through that program.
And then we have the Revive and Oxford Houses. Those are places that we can temporarily put our participants who are struggling with addiction or have that criminal records so we can get them some rental reference. So we work with them a lot and they do help my participants step into independence.
Alicia It really does take a village. And how great is it to be in a community with such helpful partnerships? We have the opportunity to sit with John Walter from Boxdrop Mattress to get some better insight on their partnership with Goodwill. And here's what he had to say.
John Walter I am John Walter, and we have Boxdrop up north Spokane, and we're a furniture and mattress clearance warehouse. The partnership with Goodwill has been fantastic. It's been fun working with Goodwill. Not only are we a business that's in Spokane, we get to be part of it. We see the needs. We experience those customers or see them or participate with them in the community every day.
And it's nice to be able to to get back a little bit with our time and energy and resources. I would say that between Goodwill and some other organizations, we're probably helping between 506 hundred families annually. As luck would have it. Goodwill reached out to us early on, was intrigued by how we operate and in our pricing and our customer service.
After a couple of brief transactions, just became clear that we work well together and that we have the resources and the capacity to meet the need and meet need quickly for goodwill. And it's been a tremendous partnership since then.
Michelle Wow, that's good. I'd like to get into the really good stuff. Do you have any particular success story that stuck with you recently?
Christina One of the participants that I'm most proud of is Matthew Diaz. He actually just won an Independence Award from Goodwill and when he first came to our program, he was homeless. We worked with him to get him into housing. And fortunately, once he was in housing, he had a house fire in the kitchen due to faulty wiring. And I assisted him through all of that with the emergency housing.
And we were able to get him back into his apartment we worked on getting him on to subsidized housing or Spokane Housing Authority, which is a section eight program. But Matthew decided that for his plan, he was going to go a different route. And he got himself a job, which I was very proud of him for, coming up with his own goals and fulfilling those.
He's doing wonderful and he actually just graduated from the program. When I was talking to him about exiting the program, he had discussed possibly going back to school, which I find to be very awesome, and I hope that he is able to fulfill that dream with it.
Kim So I do have a success story. I just accepted someone from that program. She came to us severely mentally ill. She was already housed. She was just going to be evicted. So we were able to get her back up on her past rent. She got the night or her son's security plan. I found it really upsetting because she had been in stable six times in the last year, but that kind of put fire in her veins.
She decided to get the message she needed to maintain her mental health, and then she got certified as a CNA and she's making $19 an hour. She's moving into a two bedroom apartment that she's paying for herself. And I don't know what triggered it, but I kind of told her I was like, at this point and denying you what is your next step?
And that's what we did. We started working on the next steps to getting her to where she was going to have to count on herself. Nobody else and she's been doing it. I got to exit from the program. She's doing great.
Michelle Now, tell our listeners how they can connect with the HEN program. Where are you located and how can they get in touch?
Jenn We can be found at the Spokane Admin Office at 130 East Third Avenue right in downtown Spokane. And we are right on the first floor next to the lobby, the lovely and talented front desk receptionists Liz and Kristin can ask you questions and guide you to the right program, including HEN.
Alicia If somebody felt inspired to join your team. Are there any positions available that they could apply for?
Jenn So right now we are hiring for case managers. We have a couple of case manager positions open, and we are also hiring for a part-time FCS and part-time HEN housing specialist. So it is a full-time position, working half-time with each program so if you're into working to help people have housing, then this might be the right job for you.
Michelle To wrap up all that goodness. Here's a recap of all the things we learned about the Goodwill Housing and Essential Needs program today.
Jenn So my program is the Housing and Essential Needs or HEN program housed at Goodwill. In order to qualify, you have to first have a referral from the Washington State Department of Social and Help Services, DHS, and then come into our office to have a housing conversation with one of our lovely diversion specialists. You do need to be either homeless or going to be losing your housing within the next month.
You can find us downtown at the main administrative office at 130 East Third, or you can contact the HEN program via our hotline at 509-462-0518.
Alicia We'd really like to thank you all for connecting with us and our listeners today. You brought some really great and incredibly useful information, and that is pretty good.
(Music plays)
Michelle Hey, if you're hearing this message, you've listened to our new episode all the way to the end. And for that, thank you.
Alicia And don't forget to keep up with what's good by following us on social media, on Facebook: INWGoodwill, Instagram: goodwill_inw, Twitter: GoodwillINW and TikTok: GoodwillINW.
(Music fades)
Christina Okay. I'm going to hit you with a bad joke. I've been really worried about the calendar.
Alicia Why?
Christina His days are numbered.
Michelle Insert said trombone.
Group Wah, wah, wah, wah.
Alicia Very nice.
(Group laughter fades)