Project Runway Bravo aired "Ultimate Upcycle" on January 2. Designers gave new life to items they found at Goodwill.
We decided to hold our own home-town challenge. We recruited six local "fashionistas." Each had 30 minutes at Goodwill to find, try-on, and complete an outfit!
For the next few weeks, you will see their looks on Facebook/INWGoodwill and Instagram/Goodwill_inw. Pick your favorite!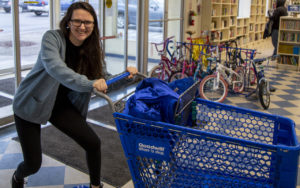 Our first contestant is Tara. Tara often shops the Goodwill Outlet in Spokane. Shopping off the rack at a regular Goodwill store was a new experience.
Start the clock! Tara had her outfit pre-designed in her head. She headed straight to the dresses. She found a cream-colored lace dress. From there, Tara scoured the jean section where she instantly found a pair of Levi Strauss Jeans.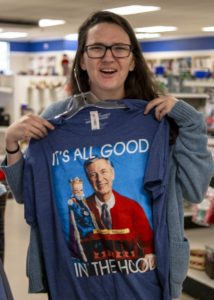 Next stop: the men's section. Frantically flipping through shirts, Tara found a Mr. Rogers t-shirt. It had her instantly laughing. She was looking for a large, graphic tee for layering. But ended up with a plain light blue t-shirt. She also found a Cabela's long-sleeve button down shirt.
Just 15 minutes left! Tara went back to the women's section. A black Merona windbreaker completed her layered look.
Cart full, Tara power walked to the dressing rooms and quickly threw on her look. She popped out bare foot and jogged to the shoe section. A pair of Sam Edelman heels fit!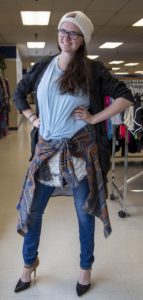 She's done! Oh wait, no she's not! With eight minutes left on the clock, Tara realized she wanted a beanie too. To our amazement, she sprinted to the hat section…still in the heels! We don't recommend that by the way. With five minutes to spare, Tara found a Love Your Melon beanie.
Tara said 30 minutes didn't seem like enough time. But she still found her complete look with five minutes left on the clock! We love how Tara's look stayed true to her 90's girl grunge style.
---
Is Tara's look our winner? If you like Tara's look, like her picture on Instagram @goodwill_inw or Facebook/inwgoodwill! Every like counts as one vote.
Eyeshadow lace dress $ 5.99
Levi Strauss Jeans $ 7.99
blue t-shirt $ 3.99
Cabela's button-down shirt $ 9.99
Merona wind breaker $ 5.99
Sam Edelman heels $ 9.99
Love Your Melon beanie $ 4.99
Total Outfit cost: $48.84