Lyndsay is the second contestant to take place in our January 2020 Fashion Challenge.
Lyndsay is a committed Goodwill shopper! Even the outfit she showed up in on competition day was 100% Goodwill!
---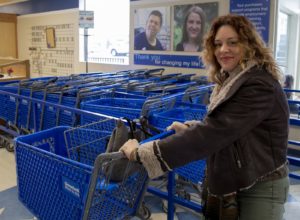 Lyndsay loves the layered look. She describes her personal style as unique-bohemian-wild-free-colorful. Whew! Mouthful.
Lyndsay doesn't generally shop for brands specifically. But, she frequently finds Mossimo, American Eagle, Levi Straus, and Eddie Bauer at Goodwill.
Lyndsay came ready to play our challenge with a set time limit for each type of item. She hit the women's shirts first. She gave herself 10 minutes to find the right shirt. Lyndsay found several tops but ended up choosing a green Universal Threads top.
---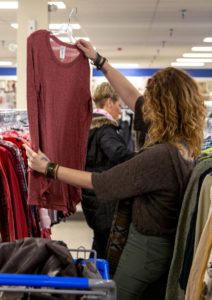 On to the jeans! Lyndsay said it's hard to know what size jeans fit. But she was set on finding a pair of jeans with holes in them, one of her favorite styles for pants.
After finding a few different styles and colors, Lyndsay found the perfect pair of Vanilla Star jeans with the holes on the legs! These were the last pair of pants she picked, so she was thrilled they fit!
Next up, the jacket section. Lyndsay says every woman should have a jean jacket in their closet. Lyndsay and I are both a little jealous of women who can totally rock a great denim jacket.
Lyndsay didn't find her perfect denim jacket in this trip. But, after a trying few different styles, ranging from modern fashion jackets to downright comfy, Lyndsay chose a cream-colored Angel Kim jacket.
A gorgeous pair of shoes wooed Lyndsay next. I was sad for her when she discovered they weren't her size. Oh well – a gem to be found by another lucky shopper. Lyndsay did find a great pair of Propet shoes. They did not leave her feet once she got them on. Perfect fit!
---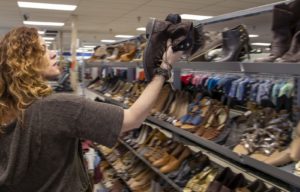 The last piece of Lyndsay's outfit had to be a scarf. So, she power walked her way to the scarf section to finish off her look with an orange plaid scarf.
Cart loaded to the brim with items, Lyndsay broke everything down to types of clothes and chipped away until she stepped out of the dressing room in her final look.
---

"I could spend hours shopping in Goodwill," Lyndsay admitted. She was surprised that she could find a complete look in 30 minutes. Lyndsay's personal style of unique-bohemian-wild-free-colorful really shines with her final look!
Is Lyndsay's look our winner? If you like Lyndsay's outfit, then don't forget to like her picture on Facebook or Instagram. Every like counts as one vote. The winner will be chosen by you!