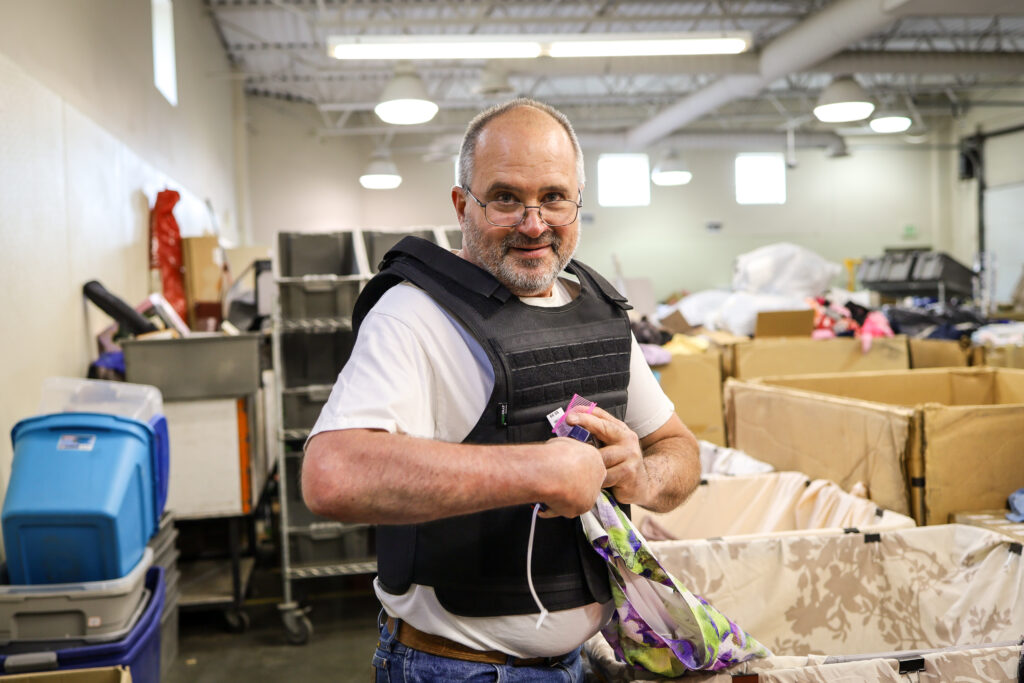 Dean struggles with health issues. He has limited language abilities. It was difficult for him to communicate and work with ease. He also has mobility issues. He needed help becoming a stronger communicator. So he came to Goodwill.
He started a job at Goodwill, sorting and tagging clothes. And he got help from Goodwill's employment services. He worked with a job coach to improve his communication and work skills.
At Dean's workstation, there are price labels taped near each sorting bin. This helps him and his team members communicate. They point to the label that matches the correct pricing.
His manager also has a large calendar with phrases next to it that he can touch. Phrases such as home, sick, doctor, and break.
Tools for better independence
It was challenging for Dean to enter telephone numbers using the keypad. This was a skill he wanted to improve. He wanted to be able to call his boss or job coach if he were to miss work.
Together, Dean and his job coach worked to find him an effective and easier way to enter phone numbers. Now all the important numbers that he needs are programmed in his phone. He can reach key people easily.
Another tool that Dean uses to communicate at work is a picture board. He can point to the picture that matches what he is trying to communicate. He and his job coach are working together to get him more communication tools.
Dean inspires and shares his positivity
Dean works about 18 hours a week. His team members describe him as always upbeat and happy. He loves to work. During the COVID-19 furlough, Dean would check in once a week to see when people were returning to Goodwill.
His smile and positive attitude light up any room that he is in. His team members said his happy spirit is infectious.
Dean's communication skills have improved since getting help from Goodwill. And that encourages him to continue his progress. He's excited about what else is in store for him.