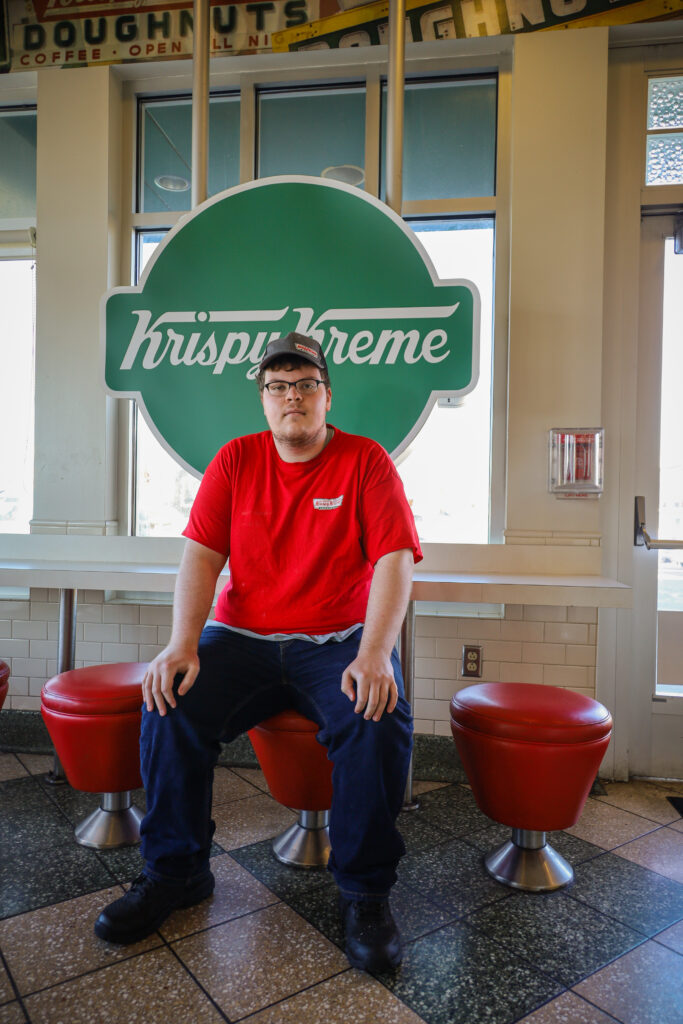 Thomas has a disability that makes communicating difficult. Conversation isn't easy for him. And business language is confusing. Because of these challenges, Thomas worried about finding a job. But he wanted a job. So, once he graduated high school, Thomas started looking for his first job.
The Division of Vocational Rehabilitation (DVR) referred Thomas to Goodwill. He enrolled in a community-based assessment to find out what his strengths were and what he needed to learn. Thomas learned that he wanted to be a baker.
With that in mind, Thomas and his employment specialist applied for baking jobs in the community. He got a job at Krispy Kreme as a production specialist in February 2022.
Thomas takes pride in his work and does a great job. He keeps an eye on the donuts that come out of the fryer and checks to make sure they are flipped and moving along the conveyor belt properly.
He checks if the donuts need glazing. He makes sure the glazer is working correctly. He finishes the process by putting donuts on racks or trays and packaging them. He decorates and makes sure the workstation is clean and sanitized.
Thomas has learned new work and communication skills. He used to be all about business. He wasn't interested in talking about anything except work. But now, he joins in when his team members are talking and connecting. And he chats about the things he enjoys, like Star Wars.
Without Goodwill's help, Thomas said his life would be "in shambles." He said his life is better since he got a job.