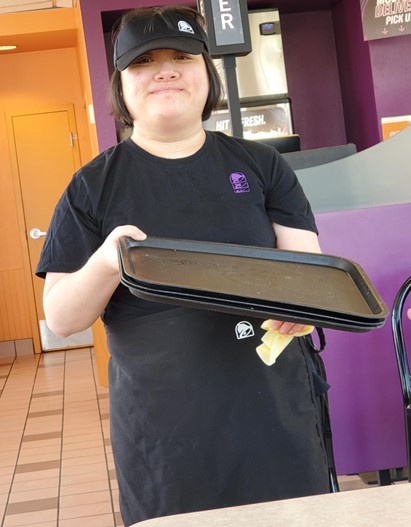 Ky was on her journey to find employment. She needed help finding a job that fit her needs. She knew that Goodwill offered employment services for people wanting to work. So, she met with an employment specialist from Goodwill's Workforce & Family Services.
Meeting with Goodwill's Employment Specialist
The employment specialist listened to Ky's goals. Ky dreamed of working in a kitchen. She was fascinated by the type of work and wanted to be a part of a kitchen team. So, Ky and the employment specialist worked together to find jobs that would meet Ky's goals.
Discovering Ky's Goals and Passion for Kitchen Work
Some months went by, and Ky was still working with the employment specialist. She was gaining new interview skills and learning how to fill out different types of job applications. The more the specialist worked with Ky, the more they learned about her. The specialist discovered that a kitchen atmosphere might not be a great fit for her. Ky struggled with the fast-paced environment.
Finding the Right Fit: From Kitchen to Bussing
So, Ky and the specialist talked about other positions that would be a part of a restaurant team, but an easier atmosphere for her needs. The specialist suggested a bussing position. Bussing positions are crucial to a restaurant team. And a position like this would allow Ky to work at a pace that was best for her.
Ky agreed to the position and was excited to find a job. In spring 2023, Ky found that exact position at a restaurant. She gained new skills and knowledge about how important her position is. She checks the restaurant lobby and makes sure all the tables, floors, windows, and doors are clean and tidy.
Ky's Impressive Work Ethic and Promotion to Cleaning Captain
Her work ethic was impressive. After Ky's first 60 days with the restaurant, she gained the title of Cleaning Captain. She is glad she chose her bussing position and works very well with her team members. And her team members are grateful for her support.
Goodwill's Impact on Ky's Life and Career
Ky is thankful for the support she got from Goodwill. She loves working and enjoys the people she works with. She's happy to feel appreciated, useful and needed at her job. With Goodwill's help, Ky found her dream job. And with the income she earns, she feels good about contributing to her family as needed.