Scott came to Goodwill's Individual Supported Employment Program in 2013. This program helps people that need support on the job, like understanding paychecks or learning workplace behavior and communication.
Scott had lost his job of 13 years and was trying to find a new career. Scott took part in the program for one year but was unable to find a job. He entered and exited the program a few times over the years but was unable to find the right kind of job for him.
The fourth time was the charm. In February of 2020, Scott's goal was to find a job. Just weeks after beginning his job search, the COVID pandemic became a barrier to finding work.
Looking for a job during the COVID pandemic  
During the quarantine, Scott faithfully met with his case worker remotely. He continued to look for work but was not having much success. He struggled to have an employer consider him for an interview.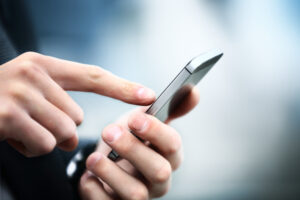 Things changed in November 2020. Scott was offered a part-time maintenance job at Wal-Mart. He accepted the job and has been an excellent help to the company. He has been keeping the store clean during holiday season and on through the current pandemic.
Scott wants to own his own hardware store someday. He keeps a binder of pictures he has drawn with diagrams and descriptions of how he will set up each aisle in his store someday. His drawings include what products he will sell. Scott is hoping to keep his job at Wal-Mart to save up to start his own business.
"My favorite part of Goodwill is my job coaches and that she helps me to do what I want to do and lets me make my own choices," Scott said.
For more information about Goodwill's Individual Supported Employment program, visit our supported employment and job coaching page.