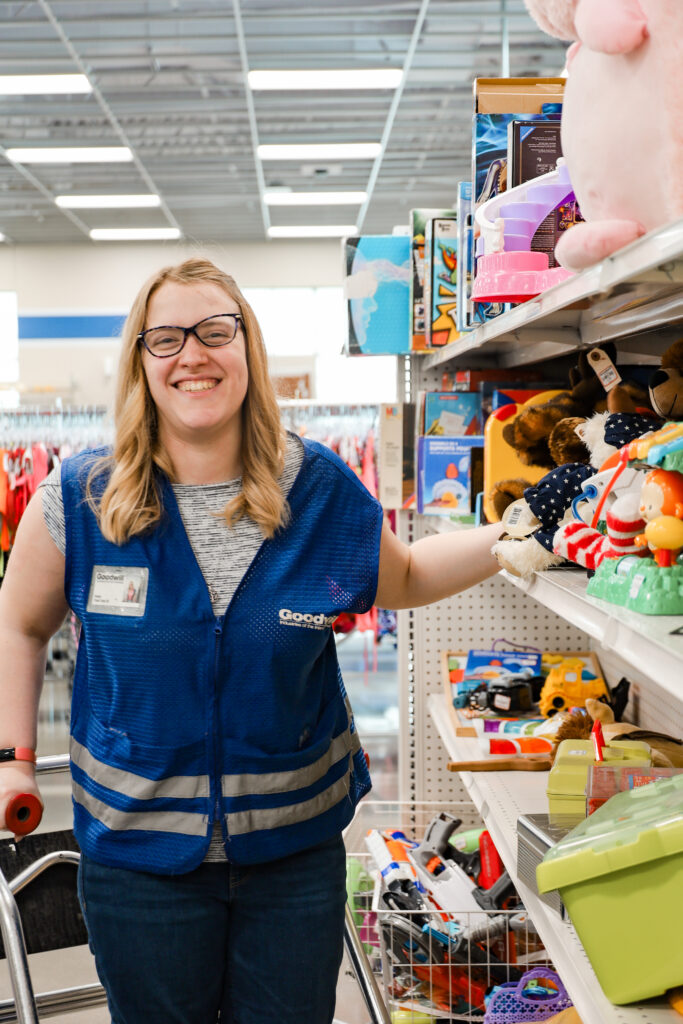 Keely had little work experience. She needs a walker and has trouble reaching and lifting. She felt limited in her job choices.
With time and help from Goodwill, her worries started to ease. Keely learned that there are many things that she could do despite her disabilities. As long as she stays determined, she can push through challenges.
She finds it hard to keep focused. Goodwill motivates and encourages her when she finishes a task correctly and independently. She's learned multiple roles at Goodwill. This inspires her to continue doing her best in other roles that she may take in her career.
Keely works two days a week in the production area at the Post Falls Goodwill. She spends some of her time out on the sales floor, organizing shelving. She is remarkable when bundling items, toys, hangers and holiday cards, and silverware. Keely loves learning new things and helping whenever she can.
She has a passion for helping people. Her team members describe her as kind, funny, always on time, and eager to work. She always asks how her team members are doing and tries to make sure everyone feels welcome and heard. 
Despite her shy personality, Keely has a knack for socializing and getting to know details about people. She enjoys connecting with her peers. Because of her great people skills, she is such a great part of the Goodwill family.
With great confidence comes greater empowerment
She's learned when to let her job coach know when needs a break and to rest if she is getting tired, a skill she has gained since working with Goodwill.
She is curious and bright. She loves music and Star Wars. She has become very confident since starting work at Goodwill.
Because of Goodwill's help and encouragement, Keely is empowered. She said she can do so much more than she could. Her family is proud of her for her responsibility and her pride in her work.
Need help?
Browse our programs or ask for help.